Any time you visit the Sonnenalp Hotel for breakfast, lunch or dinner bring your SMILE card! SMILE rewards is our dining loyalty program for Colorado residents. Every time you dine with us at the Sonnenalp Hotel, you earn points on your SMILE card. SMILE points can be earned and redeemed Ludwig's, Bully Ranch, Swiss Chalet or the King's Club.
Contact 970-479-5522 for more information or with any questions.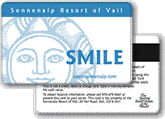 SMILE card holders will receive one point for every dollar spent in Sonnenalp restaurants: Ludwig's, Bully Ranch, King's Club and Swiss Chalet. Points may be redeemed for 10% of the accumulated value. Points cannot be earned or redeemed at Balata at the Sonnenalp Club. SMILE cards are only available to Colorado residents.
Example:
$100 spent = 100 points
100 points = $10 value
Points may be redeemed once the initial lifetime threshold of 500 points has been reached. Points may be redeemed only at Sonnenalp Hotel restaurants. Blackout dates may apply.
Cards must be presented when making any transaction. SMILE loyalty cards are not credit, debit or charge cards and have no cash value. Cards are non-transferable. Program rules are established by the Sonnenalp. Points cannot be redeemed for cash or credit. In applying for this card, the holder agrees to all terms under which it is issued.
SMILE loyalty cards remain the property of the Sonnenalp, 20 Vail Road, Vail, CO 81657. 970-476-5656.